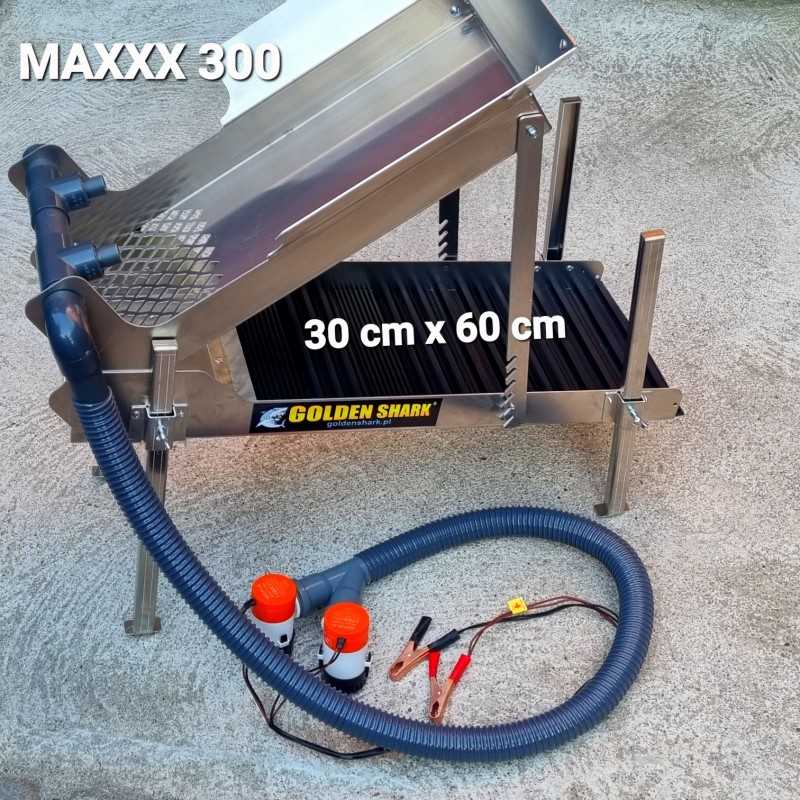  
HIGHBANKER GoldenShark MAXXX 12V (30CM)
 HIGHBANKER GoldenShark MAXXX 300
Screen for washing gravel, sand and separation of heavy fractions  HIGHBANKER GoldenShark MAXXX 300

THE BIGGEST HIGHBANKER IN THE GOLDENSHARK FAMILY !!!
WIDTH 30 CM !!!

Entirely laser cut and digitally bent from 2 mm aluminum sheet, it guarantees the highest quality and matching of elements.

This great device, powered by two 12v 1100 GPH pumps, each with a capacity of about 70 l / min, allows you to freely and quietly rinse a large amount of material, regardless of whether the water is flowing or standing in a stream.

This very mobile device allows you to work wherever the use of a typical rinse is not possible.

The set includes:

- Complete screen (hopper, bottom trough, 4 legs, hopper supports, STRONG spray pipes (PVCU)
- RUBBER GoldenShark 30x60 cm in any combination!
- 2 pumps 1100 GPH 12v (about 140 l / min)

- hose connecting the pump with the device 40 mm flex 1,5 m

The perfect solution for catching precious stones, together with the mounted rubber #BIGShark

- The weight of the device is about 7 kg,
- Efficiency about 5 m3 / h of loose material
- The pops are powered by a 12v battery.
- Suggested battery min 40 Ah.
- Current consumption 6A

Kit without battery.
Customers who bought this product also bought: