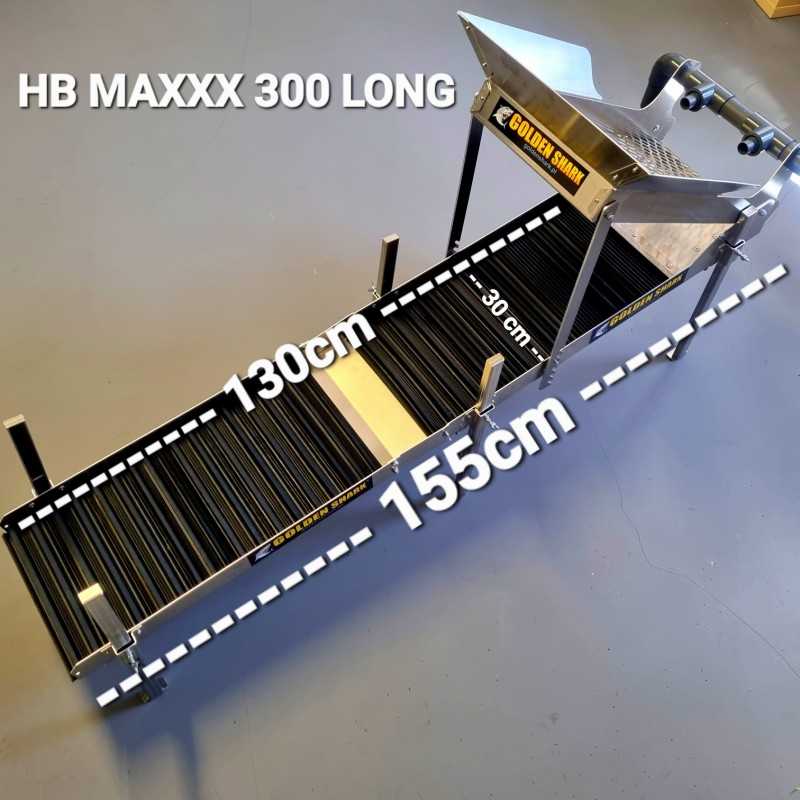  
HIGHBANKER GoldenShark MAXXX 300 LONG
HIGHBANKER GoldenShark MAXXX LONG
155 CM
 HIGHBANKER GoldenShark MAXXX 300 LONG

Entirely laser-cut from 2 mm aluminium sheet , guaranteeing the highest quality and fit of components.

Powered by two 12v 1100 GPH pumps, each with a capacity of approx. 70 litres per minute, this efficient unit allows the free and quiet flushing of very large quantities of material.

Equipped with GoldenShark gold mats, it achieves almost 100% efficiency and does not lose even the finest gold.

This highly mobile device allows you to work anywhere where using a typical golwaschrinne is not possible.

Included:

- Complete Highbanker plus 1 x extensions
- 2 X GoldenShark mat 30x60 cm in any combination!
- 2 x 1100 GPH 12v pumps (approx. 140 l/min)
- Hose connecting the pumps to the unit 40 mm flex 1.5mb

Ideal for catching precious stones, together with the mounted #BIGShark mat

- Weight of the unit approx. 10 kg,
- Capacity approx. 5m3/h of loose material
- The pops work powered by a 12v battery.
- Suggested battery min 50 Ah.
- Current consumption 6A

Set without battery.
#goldensharkpl
Customers who bought this product also bought: