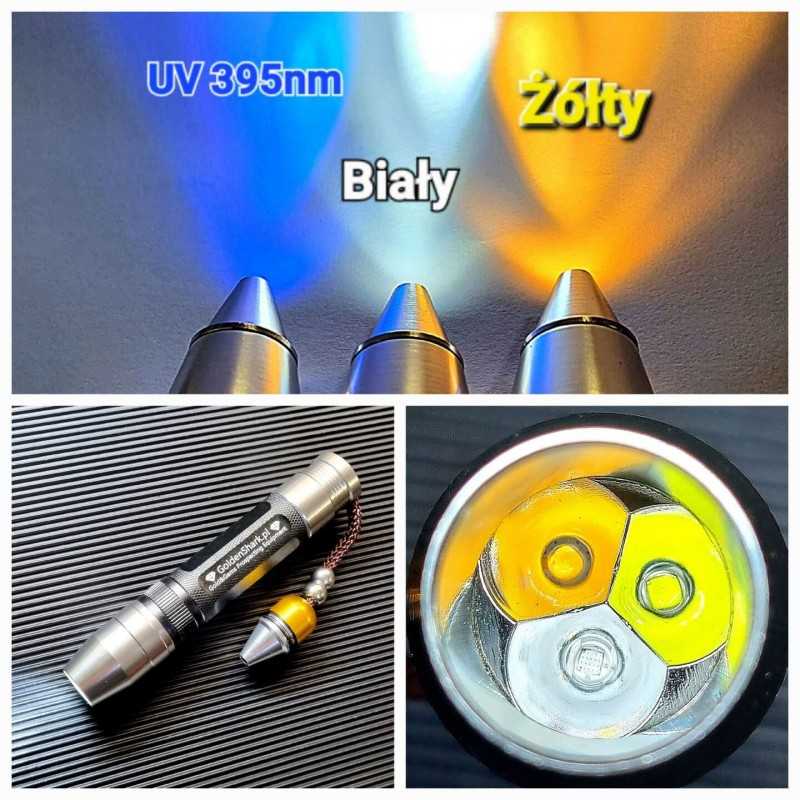  
3in1 3xLED UV gemstone torch
The best 3-in-1 gemstone torch

3 light sources in one torch

uv 395nm white light, yellow light

amber, ruby , sapphire, garnet, zircon, topaz
This lightweight and compact LED torch has been specially designed for gemstones.

The very strong and resistant construction made of aluminium guarantees a long service life.

It is spill-proof and, thanks to its silicone seals, allows trouble-free use in the field, in the rain and in contact with water.

It is ideal for searching for rubies, amber and other precious stones.

Due to its strong light output, it allows even the darkest sapphires to be illuminated. The additional reduction accumulates the light beam in a 5 mm diameter

reduction, allowing it to shine deep into the stone.

With its powerful built-in 395 nm UV diode , it is best for searching for corundum, rubies that glow red in UV, but it will also work well for searching for amber and other minerals that glow under UV light.

An essential piece of equipment for every gold and gemstone prospector !
-Material: aluminium

-Power:10W / approx. 700 lumens

-Power supply 18650 Liion 2000mAh cell included

-USB charger included

-3 LEDs-395nm UV LED-white LED-yellow warm LED

-Net weight: 70G

-Size : 133.5mm X 23.6mm;

-Tip diameter : 15mm/5mm
Customers who bought this product also bought: