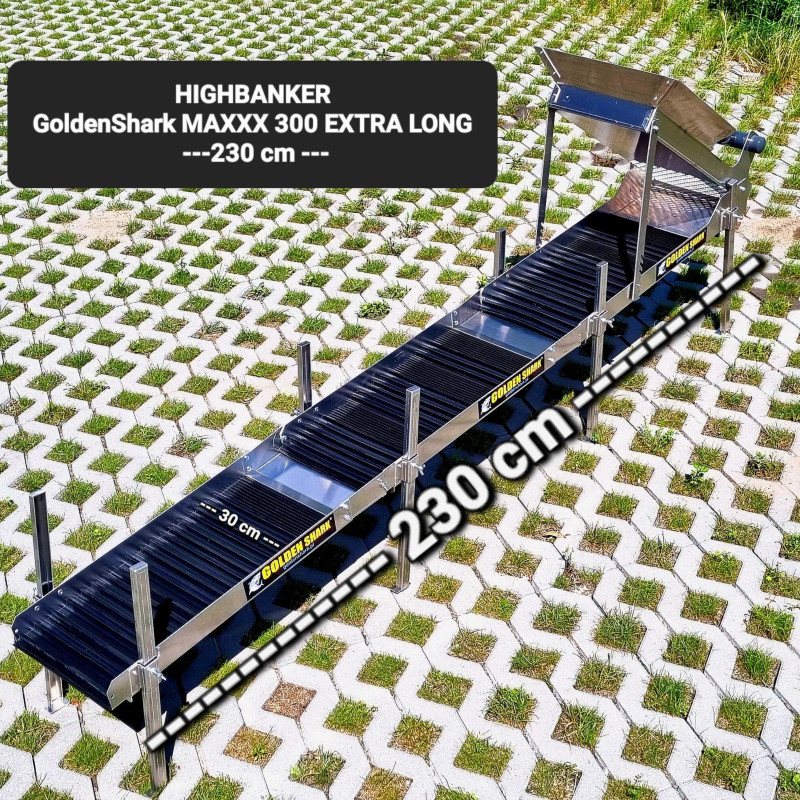  
HIGHBANKER GoldenShark MAXXX 300 EXTRA LONG
HIGHBANKER GoldenShark® MAXXX 300  EXTRA LONG
 30 Wide\230 CM Long
HIGHBANKER GoldenShark® MAXXX 300 Extra Long 230 CM

THE LARGEST AND LONGEST HIGHBANKER IN THE FAMILY :)


Entirely laser-cut from 2 mm aluminium sheet , guaranteeing the highest quality and fit of components.

Powered by two 12v 1100 GPH pumps, each with a capacity of approx. 70 litres per minute, this efficient unit allows the free and quiet flushing of very large quantities of material.

Equipped with GoldenShark® gold mats, it achieves almost 100% efficiency and does not lose even the finest gold.

This highly mobile device allows you to work anywhere where using a typical golwaschrinne is not possible.

Included:

- Complete Highbanker plus 2 x extensions
- 3 X GoldenShark mat 30x60 cm in any combination!
- 2 x 1100 GPH 12v pumps (approx. 140 l/min)
- Hose connecting the pumps to the unit 40 mm flex 1.5mb

Ideal for catching precious stones, together with the mounted #BIGShark mat

- Weight of the unit approx. 13 kg,
- Capacity approx. 5m3/h of loose material
- The pops work powered by a 12v battery.
- Suggested battery min 50 Ah.
- Current consumption 6A

Set without battery.
#goldensharkpl